DJ ETA
WINNERS 2022
AN AUDIENCE WITH MILLY LIU
François Pandolfo
EVE: ALL ABOUT HER
Keith Ramsay
The inaugural DAVID JOHNSON EMERGING TALENT AWARD was presented to not one, but two Fringe shows tonight [8pm August 28th] awarding both winners the full prize money of £11,000 each.
After a mixed-bill comedy and show featuring established fringe acts including Stewart Lee
Fascinating Aïda, Dave Johns (MC), Camille O'Sullivan, Lynn Ferguson and Rhys Nicholson the Award was made to a two unique fringe shows, both winners taking home £11,000. 
The search was led by arts journalist Helen Hawkins and her team of scouts.  Helen said tonight:
"Eve: All About Her.  An extraordinary feat of both writing and acting, Keith Ramsay's Eve is an uncategorisable piece of theatre, a fever dream rather than a narrative. It's as if he's thrown Hollywood's great icons into a blender with a dash of everything from Shakespeare and Dante to Marianne Faithfull, then pressed Pulse. He delivered the resulting stream of consciousness with a blazing and unforgettable intensity.
An Audience with Milly Liu. François Pandolfo is a rare creature – a dragged-out drag queen with a feline obsession who is as engaging as he is feral. Bit like a cat. He brings a welcome whiff of danger to the Fringe that often spilled-out into the Pleasance Courtyard, though we all got a badge and a hug as we left.
The Award trophies were designed and hand-made by Simon Munnery.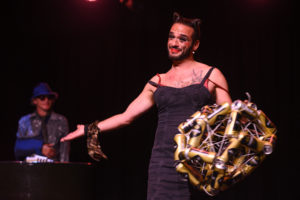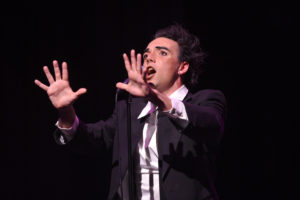 DJ ETA.org
"A theatre producer whose ebullient largesse and fearless eye for an off-kilter hit was rooted in the creative anarchy of the Edinburgh Festival Fringe" The Herald
The David Johnson Emerging Talent Award aims to celebrate the life of maverick producer David Johnson and to create a legacy in his memory.
A cash award of up to £11,000 will be presented to the show/performer/creative independent annually, at the Edinburgh Festival Fringe, that best reflects David's discerning eye for new and emerging talent.  David's flair for commercial theatre was matched by and often combined with his fervent support for new and emerging artists.  The award will be made that that spirit.
How it works
A team of scouts chaired by Helen Hawkins (arts and culture journalist) will recommend potential recipients during the first three weeks of the Edinburgh Festival Fringe.   A winner will be selected during the last week of the festival and inaugural DJ ETA presentation will take place on August 28th at 6pm during a mixed-bill fringe show in the Gordon Aiken Theatre in George Square.
Eligibility
A show/performer/creative independent performing at least 10 performances on in Edinburgh in August on edfringe.com or on the FREE FRINGE.
---