Sunday, August 28th, 2022
WINNERS ANNOUNCED
The David Johnson Emerging Talent Award
DOUBLE AND QUITS!
TWO WINNERS GIVEN £11,000 EACH!
£22,000 Prize!
Winners
AN AUDIENCE WITH MILLY LIU
François Pandolfo
EVE: ALL ABOUT HER
Keith Ramsay
The inaugural DAVID JOHNSON EMERGING TALENT AWARD was presented to not one, but two Fringe shows tonight [8pm August 28th] awarding both winners the full prize money of £11,000 each.
After a mixed-bill comedy and cabaret show featuring established fringe acts including Stewart Lee, Fascinating Aïda, Dave Johns (MC), Camille O'Sullivan, Lynn Ferguson and Rhys Nicholson the Award was made to two unique fringe shows, both winners taking home £11,000.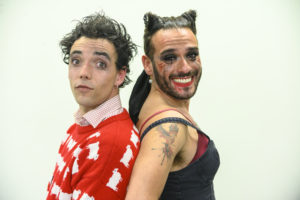 The search was led by arts journalist Helen Hawkins and her team of scouts.  Helen said tonight:
"Eve: All About Her.  An extraordinary feat of both writing and acting, Keith Ramsay's Eve is an uncategorisable piece of theatre, a fever dream rather than a narrative. It's as if he's thrown Hollywood's great icons into a blender with a dash of everything from Shakespeare and Dante to Marianne Faithfull, then pressed Pulse. He delivered the resulting stream of consciousness with a blazing and unforgettable intensity."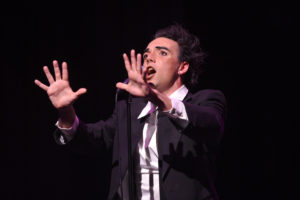 John Mackay, David's long-term business partner, said:
"An Audience with Milly Liu, written and skilfully performed with a genuine sense of danger by François Pandolfo, was the sort of quintessential not-for-everyone Fringe experience that David would have loved – bonkers and filthy yet oddly moving."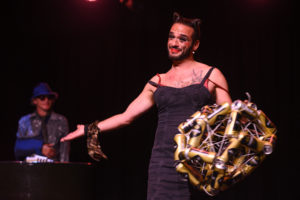 The Award trophies were designed and hand-made by Simon Munnery.
There will be no award in 2023.